Anders Hoegberg: "The memories with VASA are especially profound and beautiful."
At the 2013 6th annual International Forest Expedition Festival's opening ceremony in Jingyuetan, Changchun, a group of world class outdoor athletes gathered in the heart of Northeast China, in one Asia's largest artificial forest parks located in Jingyuetan, Changchun's development zone.
1215 athletes from 30 countries and regions will participate in the marathon, and over 5000 amateurs and enthusiasts from all over China will participate in the expedition.
At China's most influential expedition festival, the athletic banquet to be held by VASA Corporation and the Jingyuetan development zone's local government is considered very ingenius and original. Many outdoor sport superstars, including three-time champion of VASA's skiing competition Anders Hoegberg and Olympic gold medalist Bjorn Lind will be among the guests, allowing many people to appreciate the pure charm of outdoor sports.
The beautiful landscape and forest scenery of this unique area will be a new experience even for veteran outdoor athletes.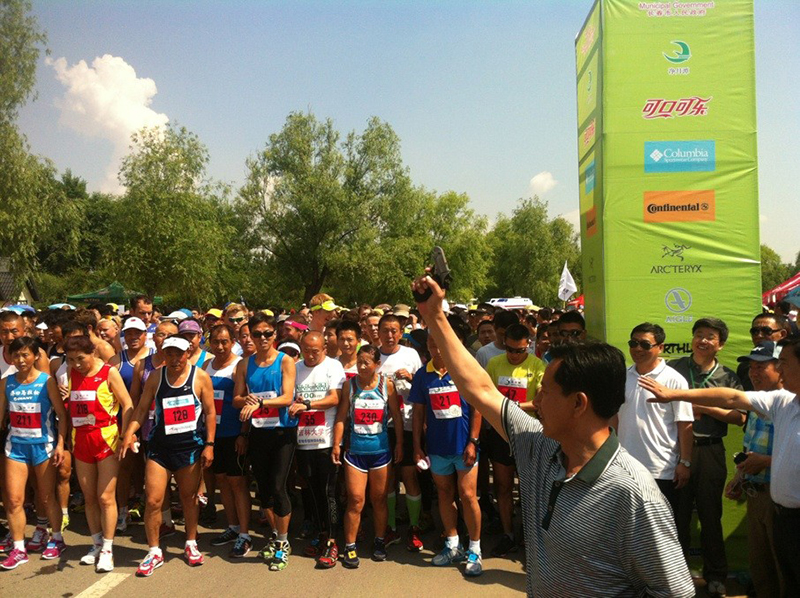 According to the event organizer VASA Corporation's introduction, this year's competition will go along with VASA Corporation's goal in its series of events. This event will focus on entertainment for the public, perfectly combining cross-country running with hiking and blending athletic competition with midsummer parties, thus explaining the meaning of "festival" in VASA's Expedition Festival.
One thing worth mentioning is that this year's 6th annual VASA Expedition Festival will have historic innovations. As the scale of the competition continously expands, the number of participants will also increase. This change is a response to VASA expedition enthusiasts' increasingly strong demand. The VASA committee and related deparments unanimously agreed to increase public entertainment events such as midsummer beer parties and international cultural fusion events such as outdoor merchandise exhibits. VASA guarantees that it will hold a professional international athletic competition and a perfect midsummer celebration party.
"We are extremely happy to be able to hold this event and have amateur athletes from all over the world come to Jingyuetan, Changchun's national forest park. This event brings along lots of joy and bridges communication between Changchun and the rest of the world." Gavert Waag, chairman of VASA Corporation, says, "We express our gratitude to Jingyuetan's development zone, Jingyuetan National Forest Park, and our sponsors. Thanks to you, we are able to hold such a marvelous event and merry party. They display the charm of sports to everyone. They are a perfect union of the city and VASA, as well as the continued innovation of athletic and cultural exchange between the two countries."
The champion of the previous VASA expedition, Anders Heogberg of Sweden also sincerely said, "As a strong promoter of Swedish world class athletic competitions, VASA Corporation has always held many wonderful and grandiose competitions. For me, the memories of these competitions have been especially profound and beautiful. I wish VASA the best of luck in the future and I hope they will hold even more wonderful competitions."
Famous Swedish outdoor sports apparel brand Stoneham's CEO of the China region Fredrik Persson also extremely admires VASA's contribution to the development of outdoor sports in China. "VASA Corporation is a very good partner. We are very fortunate to have a partner by our side who is constantly striving to improve the quality of their products and innovate new services. We hope that in the future we will be able to establish a long term and closer cooperation with VASA."
Background Information:
Origins of VASA
VASA's name comes from the 16th century Swedish king's name, Vasaloppet. In order to commemorate the revolt against the king, the overthrowing of Denmark's government, and other achievements during that period of oppression, Swedish people established an annual 90 kilometer skiing competition in 1922. This competition was later named the VASA Skiing Festival.
The first Vasaloppet cross-country skiing competition was held in March of 1922. To this day, it has over 80 years of history, attracting over 40,000 amateur skiers every year. It has already become the world's largest cross-country skiing competition.
VASA Skiing Festival and Changchun
In 2001, VASA Corporation held the annual event in Changchun's Jingyuetan. They realized that the geography and natural environment of Changchun's Jingyuetan resembled northern Europe's, making it very suitable to hold cross-country skiing competitions. From then on, VASA Corporation proposed to hold the world's largest cross-country skiing competition "VASA Skiing Festival" in Changchun's Jingyuetan. Through various efforts, in 2003, the "VASA International Cross-Country Skiing Festival," which had been held in Sweden for over 80 years, officially moved to Changchun's Jingyuetan.
VASA International Forest Expedition Festival's Origin
The VASA International Forest Expedition Festival in Changchun's Jingyuetan originated from Sweden's annual Lidingoloppet Expedition Festival. Sweden's "Lidingoloppet" Cross Country Marathon was the world's largest cross country competition. The first competition was held in 1965 and to this date has been held 42 times. Every year in September, 30,000 cross-country enthusiasts from over twenty countries participate in the competition. The competition encircles Lidingo Island, a total distance of about 30 kilometers. There was a separate competition with a different distance for seniors, children, women, and adolescents. The Lindingoloppet Cross Country Competition was the area's most remarkable competition, playing an important role in the local economy and tourism development.
This year thanks to VASA Corporation's promotion, the 6th annual VASA International Forest Expedition Festival will be held in China.